Completely Missed the Mothers Day Aurora
On Sunday the 6th, one of the best Northern Lights displays to be seen in Ireland happened… And I missed it! Gutted. Around maybe 19:00 I saw that someone tweeted that it was KP6 (strong activity) and that the Northern Lights would be visible. As luck would have it, we were headed to Mayo that day. It was horrible outside in Limerick and didn't seem to stop raining the whole way up to Mayo so I didn't have much hope. That's when the pictures started flooding in. Northern Lights over head, could see multiple colours and even pillaring. Everything you could hope for in Ireland. I even saw someone say something along the lines that it was the best showing he had seen and that he had seen around 30. Just my luck right? I mean even if we did get to see them I didn't have my camera! I had borrowed an Olympus Pen-1 which would have been no use. Don't get me wrong, great little camera, but not suited to night time photography as I found out the next day.
Downpatrick Head
After the disappointment of not getting any Aurora shots the previous day, we decided that we would travel for sunset, and if it looked likely, stay for however long it took after.As I was borrowing an Olympus Pen-1 that I had never used before, I thought that this would be a good opportunity to test it out. On the off chance that there was some aurora activity, I would be as prepared as I could under the circumstances. As I wasn't too sure on what sort of results I would get from the camera I decided that I would shoot bracket some of the shots and also shoot some panoramas.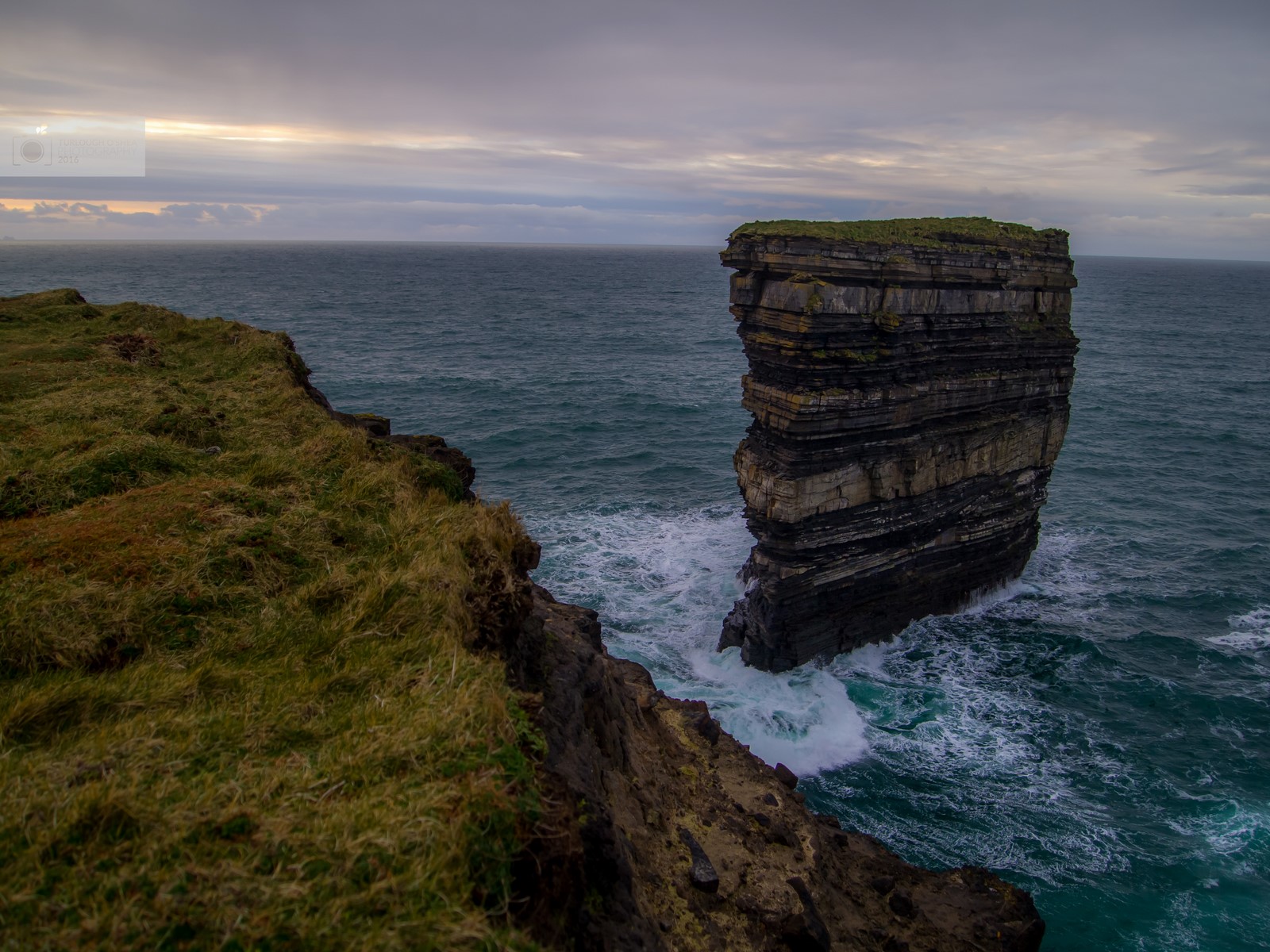 HDR at Downpatrick Head – 14mm f/3.5, ISO 100, 1/250 seconds
Sun Finally showed Up
I set up my GoPro to take a timelapse. I then set off exploring and trying to find a suitable location to compose a few shots. Some time passed and I wasn't sure if the scene would get any more interesting. There were several layers of cloud which looked okay to me at best. The sun finally showed up about 15 minutes before sunset. I took this opportunity and snapped away. I can only imagine what the place would be like on a lovely summers day. Don't get me wrong, it was a nice place to be, I just saw so much more potential in it!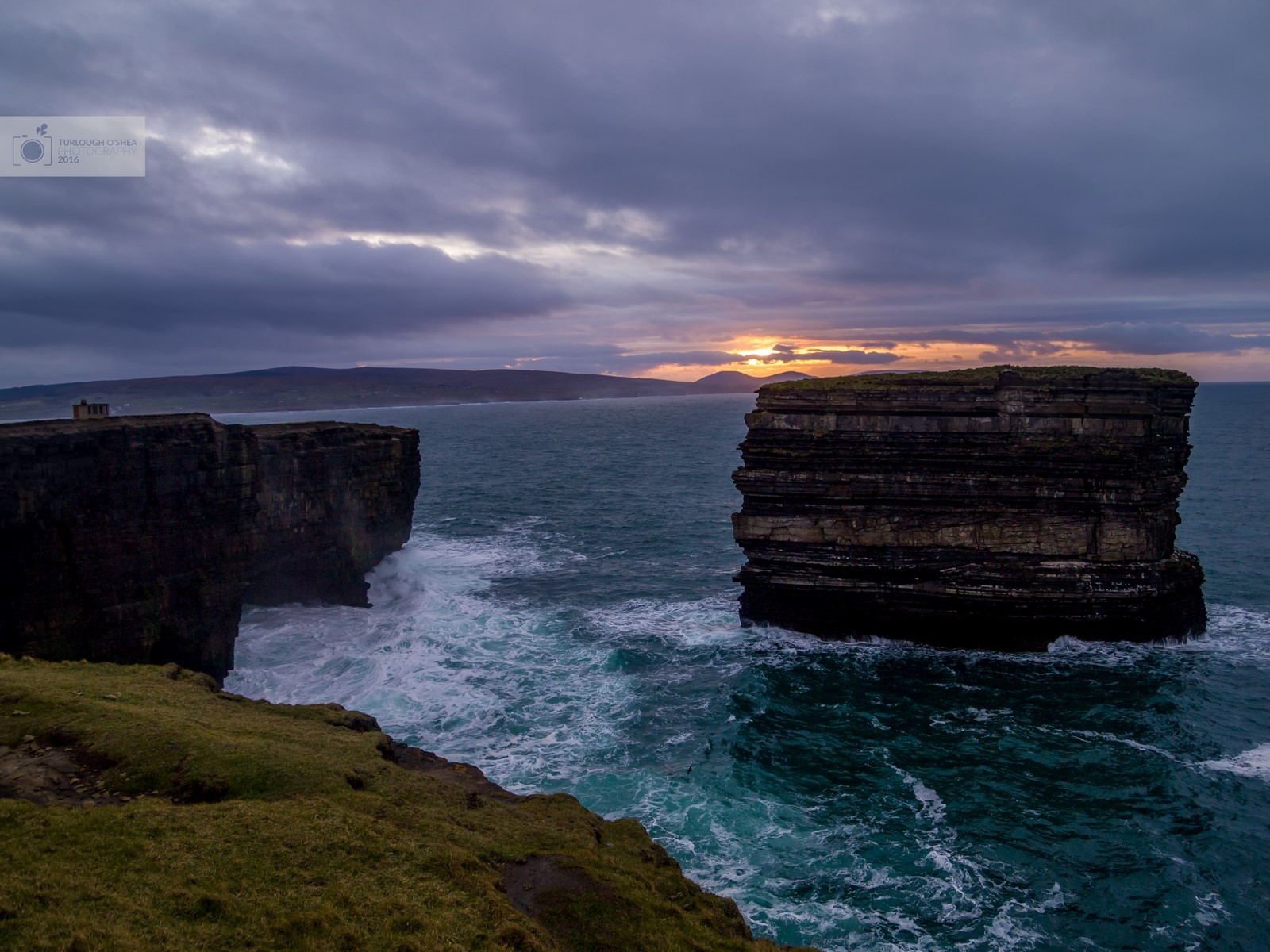 HDR at Downpatrick Head – 14mm f/3.5, ISO 100, 1/160 seconds
Decisions
When we got back to the car after finishing up our photos we had some tough decisions to make. Did we take the easy way out and head for home? Should we wait around and hope for some aurora activity? We ended up staying for a bit. All the while we were checking Soft Serve News and Sat 24 for aurora and could predictions. We eventually made the decision to leave as it was unlikely between the cloud coverage and the strength of the aurora for there to be a showing. There's always next time… Hopefully.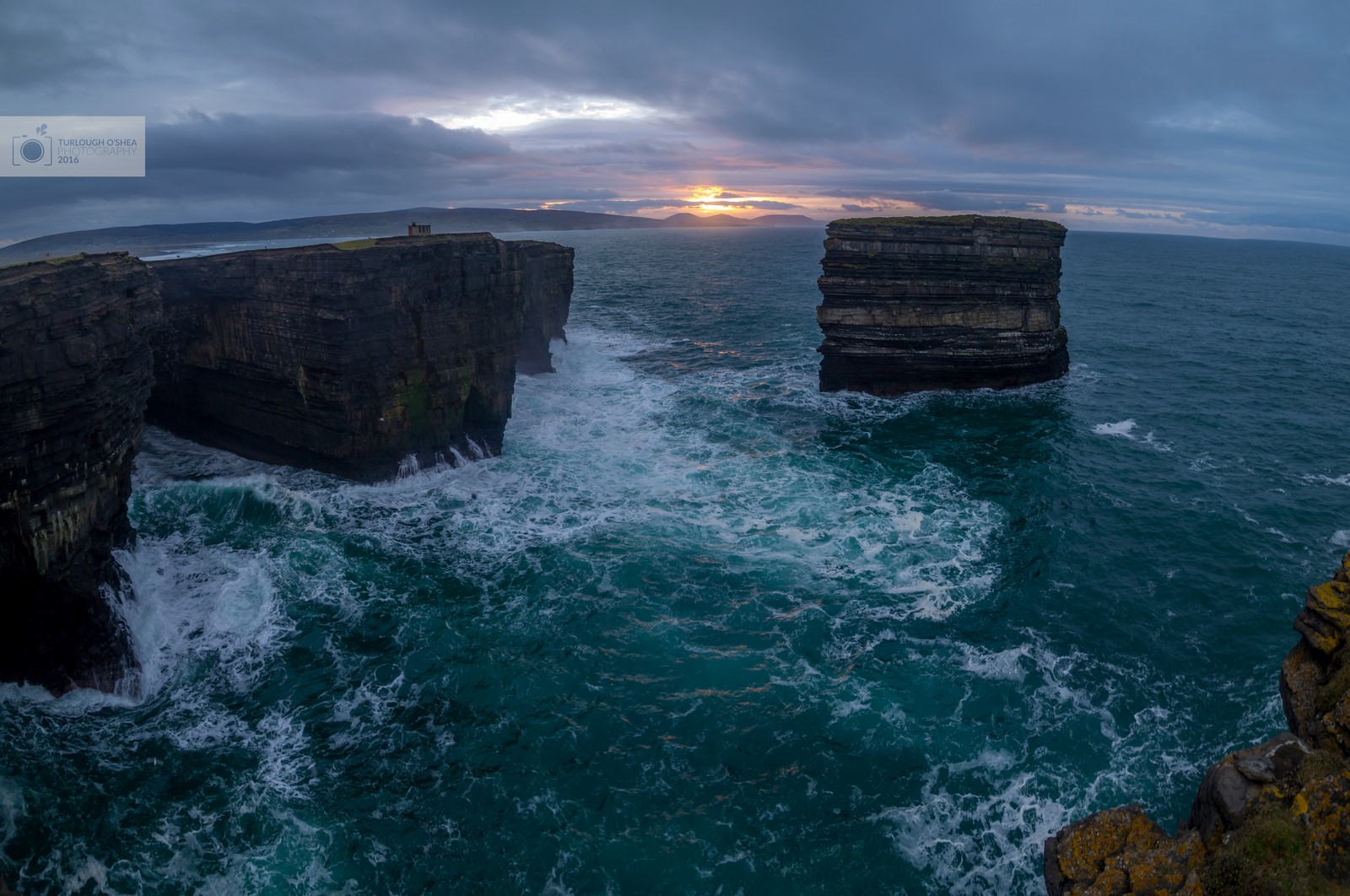 Panorama at Downpatrick Head – 14mm f/3.5, ISO 100, 1/100 seconds
If you have any like my work or want to see what I've been up to, please check out and like/follow my website, my 500px, my Facebook, my Instagram and my Twitter.
Please follow and like us: