Finding and Scouting a New Location
Last week Kathryn and myself found an amazing spot near Doonbeg in Clare. While travelling some back roads near Baltard we came across the hidden gem that are the Cliffs of Baltard. They simply looked spectacular. I think we ended up visiting the spot four different times only for the weather to not be ideal three of those times. The first time we came across the location I was just trying to take everything in. During the first visit, a pod of dolphins were swimming and surfacing near some of the rocks at the bottom of the cliffs. It was a surreal moment. Unfortunately the first day turned out to be more of a scouting trip and I don't think I took many if any usable photos.
The next evening as sunset was approaching we decided to head back to the same location. We kept an eye on the cloud coverage all day hoping to get an idea what it would be like for the sunset. There was a fairly sizable cloud coverage so sadly we didn't get the witness the dramatic sunset that we had hoped. I decided that a HDR might be best to attempt to get all the colour and detail possible. I set up in a spot that I quite liked and took note of how to find the exact spot again. I kept taking images every few minutes hoping that some colour would creep into the sky. Sadly, not much did. We weren't discouraged and decided to come back again.
The next day looked even more promising. There was a fair amount of patchy cloud that was supposed to stick around for the evening. As I knew exactly where I was set up I went back to that spot because I liked the composition of the shot. Again I took shots every few minutes to try and get the best image I could. I attempted HDRs again by taking different exposures of the same image. However, afterwards in post I realised that the HDRs just added a lot of excess noise and I could get the same effect with a single image. Even though there seemed to be a good amount of cloud coverage, not much colour crept into the sky after sunset or in the 'blue hour'. I was quite happy with what I had shot that evening none the less.
On the fourth day we decided to explore the cliff more. Before the exploration began I decided to take another picture from the same spot. There were barely any clouds in the sky but I thought I might as well go for it. At this time I had no thoughts to create a composite but when I realised I had 3 images from the same spot on very different days, it just made sense. Anyway, we continued down the cliffs and tried to find some good compositions but that is a story for another day!
Light and cloud play an important role when photographing the sunset. As you can see in the composite image, the same location looks vastly different in the three different images from three different days. It is important to factor the weather in when setting up in a location or even deciding to go back to a location. Keep this in mind the next time you're out taking photos with an overcast sky. The place might just need the right light!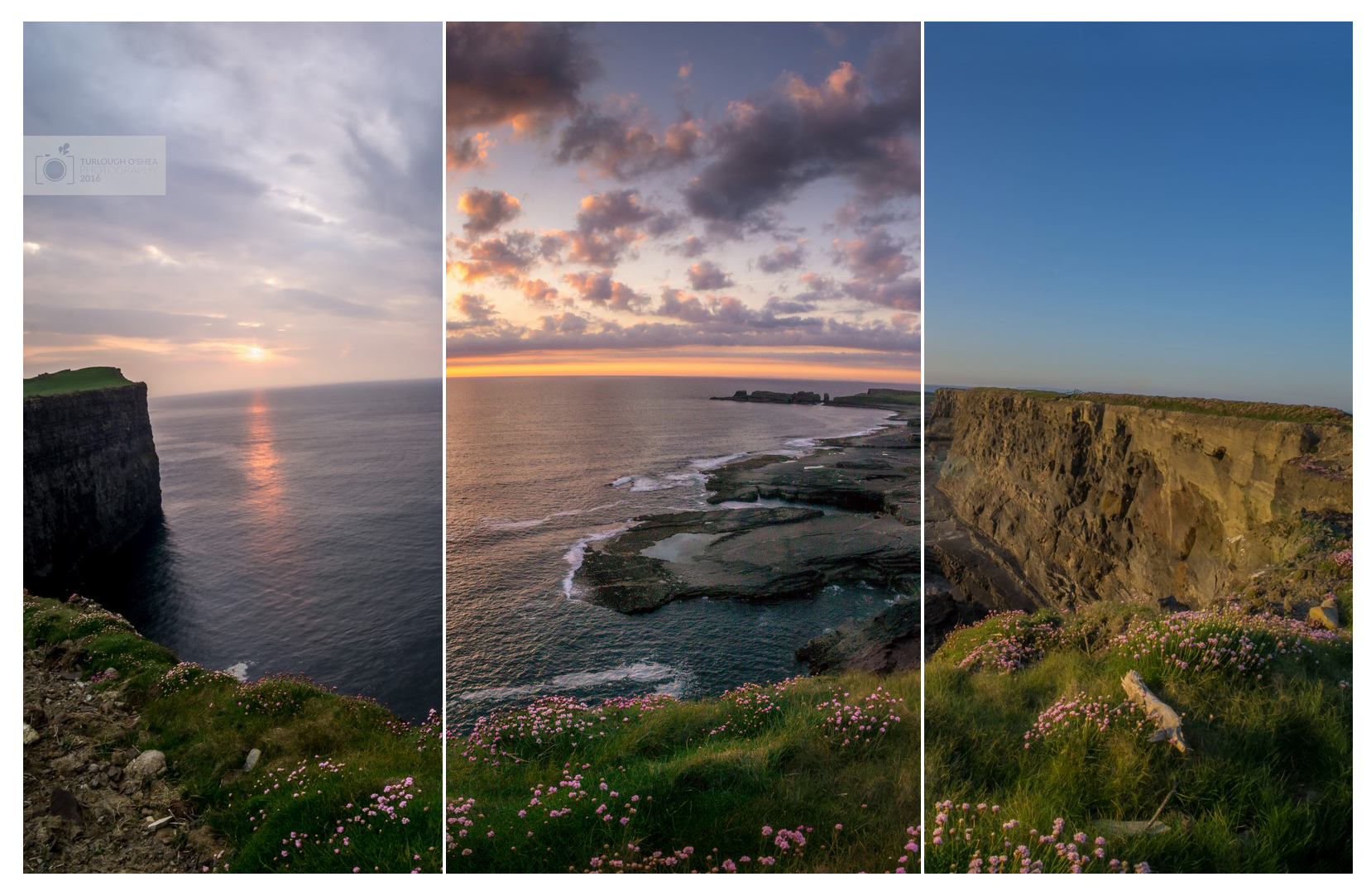 Composite of 3 images from different days at the Cliffs of Baltard – 8mm, f/18, ISO 100 at various seconds
If you have any like my work or want to see what I've been up to, please check out and like/follow my website, my 500px, my Facebook, my Instagram and my Twitter.
Please follow and like us: